---
a brief guide to Faro airport and driving in Portugal.
[Faro airport] [FAQ] [driving in Portugal]
General advice:
Seat Belts must be worn at all times while the car is in motion.
Roundabouts: Traffic on the roundabout has priority over those waiting to enter
Roads can be three lanes wide; the middle lane is used for passing in both directions.
Watch out for animal-drawn unlit carts.
At the junction of two roads of equal size, traffic coming from the right has priority.
Vehicles already in a traffic circle have priority over those entering it.
Vehicles parked on pavements other when permitted by signs is subject to the vehicle being impounded for a period of one month up to one year.
Use of mobile phones when driving is illegal and subject to a fine of up to € 600.00.
Throwing objects or litter out of cars can be fined up to € 300.00
Parking cars facing against the flow of the traffic is illegal.
Crossing white lines, jumping red lights, ignoring policemen signals, all are subject to losing a licence to drive from two months up to one year.
Passing another vehicle on their right on Motorways the driver can be fined up to € 1,250.00.
Alcohol limit;

A driver's blood alcohol level is not allowed to exceed 0.05 percent and the penalties are extremely stiff and high amounts may include time in prison of up to 2 years and a fine of € 2,500.00. Exceeding the limit by 0.5% to 0.8 % is a fine of € 700.00. From 0.8% to 1.2% is € 2,000.00.

Children;
Children under 12 year old cannot sit in the front seat while the car is in motion.
Child seats and baby seats must be used by all children up to the age of 11.

Emergency number;
Police/Fire/Ambulance Service - 112.

Fuel stations;
are usually open from 7am to 10pm or midnight; otherwise they're open 24 hours. Major credit cards are accepted but entail a surcharge. Unleaded petrol is called gasolina sin plomo or gasolina sem chumbo. Unleaded super petrol has an octane rating of 95 or 98. Diesel is called gasóleo. LPG is called gáz líquido.

Speed Limits & fines;
Built-up (Urban) areas: 50 km/h = 30 mph
Other (Rural) roads: 90 km/h = 54 mph
Motorways: 120 km/h = 72 mph
Speed limits are enforced by radar traps and unmarked police cars.

Speeding fines:

Inside Urban area - excess of less than 20 km/h = Fine up to € 300.00
Inside Urban area - excess of 20 to 40 km/h = Fine up to € 600.00
Inside Urban area - excess of 40 to 60 km/h = Fine up to € 1,500.00
Inside Urban area - excess of 60 km/h = Fine up to € 2,500.00
Rural roads - excess of less 30 km/h = Fine up to € 300.00
Rural roads - excess of 30 to 60 km/h = Fine up to € 600.00
Rural roads - excess of 60 to 80 km/h = Fine up to € 1,500.00
Rural roads - excess of 80 km/h = Fine up to € 2,500.00

All fines are subject under law to immediate payment. At the discretion of the law officer the vehicle can be seized until such payment is recorded.
Driving below 50 Km/h on Motorways can be fined € 300.00.

Toll roads;
A1 Lisboa to Santarem
A1 Santarem to Fatima
A1 Fatima to Coimbra
A1 Coimbra to Aveiro
A1 Aveiro to Porto
A2 Lisboa to Marateca
A3 Porto to Braga
A4 Porto to Amarante
A5 Lisboa to Cascais
A6 Marateca to Montemor-o-Novo
A8 Lisboa to Torres Vedras
A22 Algarve - please see charges below (Classe 1)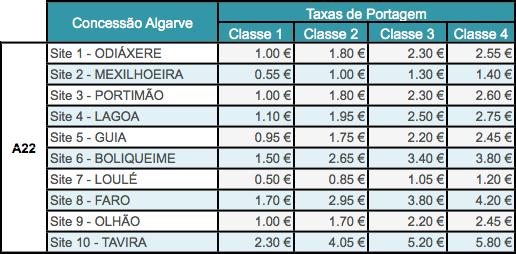 The Algarve's main motorway, the A22, operates an unmanned toll system.

All cars are equipped with a toll transponder device, upon collection of your rental car you'll be asked for a 20 euro cash deposit (30 euro for mini buses) for the transponder.

This includes 15 EUR (25 euro for mini buses) worth of pre-loaded credit and enables clients to use the toll road without having to visit local pay stations/post offices.

An option to add more credit (by a minimum of 10 euro and multiples hereof) to the transponder is available upon collection or during the rental.

Remaining unused toll can unfortunately not be refunded.

If you know in advance that you'll not use the A22 a credit card slip will be made as security and kept for 5 days after the return of the car, then destroyed.
Useful translations;
Unleaded gasoline - gasolina sem chumbo
Diesel - diesel
Toll - portagem
Parking - estacionamento
Exit - saida
Entrance - entrada
Detour - atalho
Hospital - hospital
Police - policia
Police station - estacao de policia

Vehicle requirements;
Warning Triangle.
Spare Bulb Kit recommended.
Fire Extinguisher recommended.
Reflective Safety Vest (In the event of a breakdown, it is not permitted to walk to an emergency phone without one).
Documents relating to the car and its insurance must be in the vehicle.
---
Why Pay More? Get the Best Value for your money!
All you need to drive safely in Portugal at affordable price!